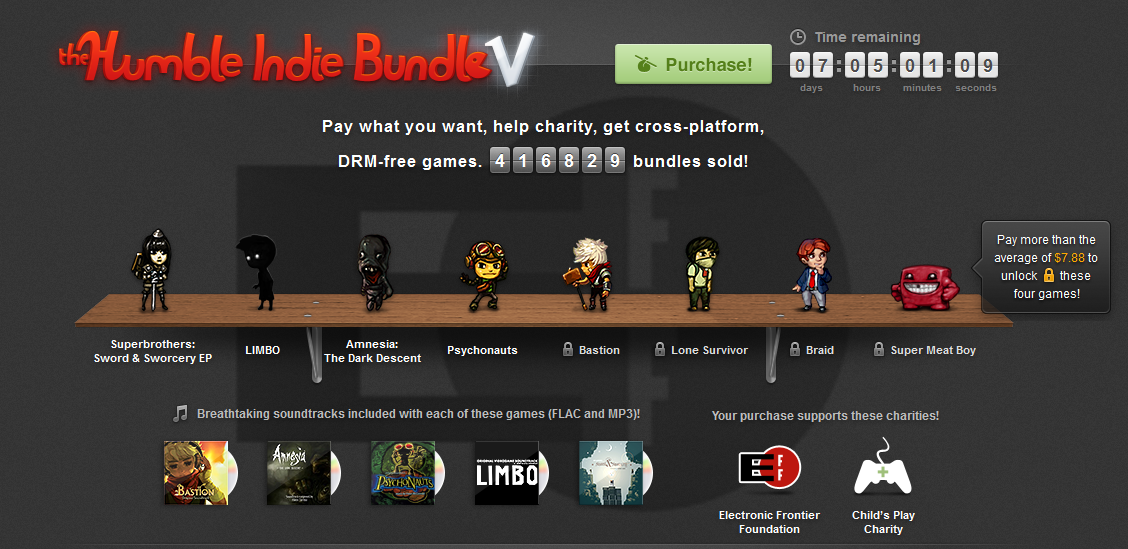 What is Humble Bundle? Humble Bundle is a pretty awesome site that lets you get multiple awesome stuff, and the money you give goes to nonprofit organizations, this humble bundle is donating to American Red Cross and Child's Play. This fortnight humble bundle is going to be a new humble bundle a day. What does this mean to me as a gamer? Simple you get tons of games for a low price and donate to charity! Sometimes the bundle from a certain studio, other times it focuses on certain theme, and other times it does all app games. Check out here at
www.humblebundle.com
Day 1; Deep Silver Re-Bundle.
Games included in this bundle are Saints Row the Third, Saints Row 2, Risen 2: Dark Waters, Sacred 2: Gold Edition, Dead Island GOTY, Saints Row the Third- The Full DLC Package, Metro 2033, Risen, Sacred Citadel, and Dead Island: Riptide-Complete Edition.
Soundtracks for Saints Row the Third, Risen 2, Sacred 2, Risen, Dead Island Riptide
The two games I have played in this humble bundle are a must have for any fans of sandbox gangster games. Yes I am talking about the Saints Row Franchise. Saints Row 2 is vastly different from Saints Row the Third. The differences are mainly play styles, as the missions and activities are fairly the same, the creators overhauled the game mechanics, and added a leveling system into Saints Row the Third. The differences never really bothered me because after all I'm still shooting as many people as possible until I die. If you want to hear more about my experiences with Saints Row the Third listen in to the podcast tomorrow night as I will talk more about it then.
The other games that I have seen my friends play is Dead Island and Dead Island Riptide. It looks like a lot of fun, a game full of zombies and survival, what more can I ask for? I always look forward to playing new zombie games and this one looks no different.
The game most recommended to me by my friends is Metro 2033. I am told it is a first person horror survival game, that I must have Russian as the dialogue, and English subtitles on. Every steam sale my friends ask me to pick it up and play it because to them it is a fantastic game, and I am hoping that I will also enjoy it.

Tune in tomorrow when the new humble bundle is announced to see what it is.