Todays #Nerdgenious! will be handed over to a rather capable writer, actor and presenter in his own right, the man I am alluding to is Geek Cube's very own Mikey O'neil.
Mikey approached me (more like texted) in regards to writing a review for my blog on the Mick Foley comedy tour, I immediately said yes due to the fact that Mick is an icon, someone who has recently made his return to the WWE, and due to his resigning with the company this tour will be his last for the foreseeable future
Now as i hand over my blog to very capable hands i would remind you to check out Mike's show by downloading the podcast on Itunes, by clicking
here
.
Now down to the review....
I know what everyone has been thinking since the moment they first ever laid eyes on Mick Foley, whether it was in his early classics before WWE, his later masterpieces of character work, or that old VHS your uncle showed you of the 'Hell in a Cell' match… 'I wonder what his comedy tour would be like', well look no further! It has arrived. Strangely this is Mick's second UK tour and I only just heard about it in November. So immediately when tickets were released at nine am one fateful morning we managed to get in the second row.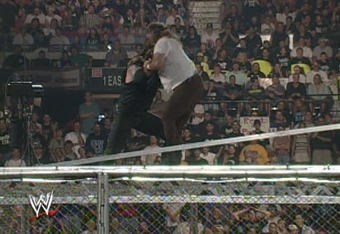 Now the first thing's first, as they encourage on the day get all of your crazy fandom out of the way at the beginning, so I am happy… no, proud to be someone who queued for fourty-five minutes chanting FOLEY! FOLEY! FOLEY! So that I could get an autograph and photo with the hardcore legend. Me (5"7) my buddy (6"4) and Mick (6"2) all took a photo together in which I look like a man trapped in a world of giants! I have been a Foley fan since I watched wrestling as a kid, he represented for me wrestling that wasn't about how much of a poster boy you were or how many muscles you had, he represents the true heart of Pro Wrestling.
My personal favourite Foley match has to be the infamous 'I Quit' match with The Rock by the way.
Foley worship over, let's get to the review: After the initial meet and greet you can tell the kind of audience you are sitting with. Wrestling fans… and maybe some of their girlfriends. The acts on stage are also very aware of this and know how to interact with this particular type of audience, for a wresting fan (even one as uninformed on current wrestling affairs as I) the night out is hilarious. For any non-wrestling fans in attendance there will be moments of utter exclusion for you.
The warm up act and compare were fantastic bubbly people who obviously really enjoy their current job. It is an atmosphere that is genuinely contagious. Wrestling fan or no you cannot sit in that room and not smile. They are obviously experienced stand-ups and have quite strong material covering: sexism, wrestling, political climate, wrestling, charity work, wrestle mania, girlfriends (or lack there of), wrestling, etcetera. Now the second warm up act was a spur of the moment thing, a last minute addition, and one I feel privileged to have now seen live. If you had told me one of Mick Foleys supporting artists that night would be Brendon Burns, I'd have told you to go shove it, but sure enough, proving everyone is a Mick Foley fan, and out he trotted. Burns proceeded to give a wrestling specific stand-up routine littered with the phrase 'I can never usually do this material!' and joined the ranks of the contagiously ecstatic people in the room.
Last and certainly not least Mick Foley entered, the moment we have all been waiting for, and he did not disappoint, a true crowd pleaser. Now no offense meant, but I can't imagine we will be seeing Mr Foley at Edinburgh Fringe anytime soon, but he does hold his own considering some of the experienced talent that introduces him. His Hell in the Cell section is a highlight, and his highlighting of the possible inaccessibility of his own show by talking to the non-wrestling fans in the audience is a nice running theme.
The criticism I have is that after his stand-up set he did a small Q&A section… and he was a lot funnier just telling anecdotes from the top of his head, than he was in his entire routine. My advice for Mick would be to keep going at it, as you can only get better, but it couldn't hurt to try an 'Evening with Mick Foley' format as well, give it a whack as one giant Q&A. If you are a wrestling fan then don't miss this show, if you are not a wrestling fan then I'd expect no more than a 3/5.
My Rating 4/5: Still Kicking Ass and taking names!
Guest Writer Mikey O'neil
Mikey co- host's Geek Cubed with Matt Dennis and James Docherty, newest episodes are available every month on I - Tunes for free via it's podcasts page
See you in a couple of days for more in's and out's of the wrestling world...
Mike